ESP32 433/868/915MHZ 0.96 Inch OLED SD Card WIFI Module
Regular price
Sale price
$14.39 USD
Unit price
per
Sale
Sold out
⚠️Please note that all policy page on site only applies to items purchased from our store: https://www.lilygo.cc.
Relevant technical or usage issues can be also discussed in our GitHub or Community.
How to pay with different payment methods
About Tax

At present, the price of the platform does not include tax.
Customers in Europe should pay attention to the tax problem after the package reaches the local country.

[orders over 150 euros may generate tax, which needs to be borne/handled by the customer, the local policy shall prevail.]
Commended User

People with programming foundation[engineers / students / makers, etc..]
Shipping & Delivery

Methods & Delivery Time

During ship, maybe some methods of transport do not update the logistic track until the parcel reaches the destination country.

Standard Express: 25-30 Days
EUB: 25-30 Days
YunTu Express: 10-20 Days
DHL: 10-17 Days
FedEx: 10-17 Days

We can ship to DHL/FedEx through a third-party channel (Freight Forwarder) because we don't have DHL/FedEx account.
Means : we --> third-party channel(Freight Forwarder) -->official DHL /Fedex-->you

If you do not see one of the above shipping methods when checking out, it may be because your country does not support that shipping method, please select one of the available channels already listed or contact us for assistance.

Please note that all delivery times are estimated for reference only.

When we are processing the order, if the system suggests that your postcode is remote, we will automatically replace it with another shipping channel of the same class for you (except HDL and FedEx), We will send you an email if there are special situations, or you can leave us a message if you have any requirements.

Please make sure your address is fully filled in (including province and continent, which will affect the shipping time of your order)

For more details please check our shipping policy.
The Version's Picture Hasn't Changed

Please don't worry when the corresponding image doesn't change when you choose a certain version, just focus on the text describing the version and we'll make sure to put the right product in your package!
LILYGO Paxcounter Disaster-Radio LoRa V2.1_1.6.1 ESP32 433/868/915MHZ 0.96 Inch OLED SD Card Slot Bluetooth WIFI Module Metering Passenger Flows
Specifications
MCU

ESP32

 Flash

4MB

 Serial Chip

CH9102

Wireless protocol

Wi-Fi + Bluetooth 4.2

Support

TF card slot

Onboard functions

Reset \ Power switch

Antenna

3D WiFi Antenna [Use by default]

(Support WiFi IPEX external antenna, but you need to jump resistance)

----

LoRa antenna

Power Supply

Support USB Micro / Li-Po Battery Dual Power Supply


JST Connect type : JST GH 2pin 1.25mm


[USB can power the battery]
Features about Disaster-Radio LoRa V2.1_1.6.1
 Digital RSSI function
 Automatic frequency correction
 Automatic gain control
 Fast wake-up and frequency hopping
 Highly configurable data packet handler
 SMA Antenna
Note : Pay attention to the OLED when opening the box.
Long Range Low Power LoRa Transceiver

High sensitivity: -i48dBm

Transceive rate: 300 kbps

Optional Hardware

Version: SX1278[433Mhz] / SX1276[868/915Mhz]
LoRa32 V2.1_1.6
Paxcounter is an ESP32 MCU-based program for metering passenger flows in realtime. It counts how many mobile devices are around. This gives an estimation how many people are around.

Paxcounter detects Wifi and Bluetooth signals in the air, focusing on mobile devices by evaluating their MAC adresses.

Intention of this project is to do this without intrusion in privacy: You don't need to track people owned devices, if you just want to count them.

Paxcounter does not persistenly store MAC adresses and does no kind of fingerprinting the scanned devices.

Data can either be be stored on a local SD-card, transferred to cloud using LoRa WAN network or MQTT over TCP/IP, or transmitted to a local host using serial (SPI) interface.
Disaster.radio is an off-grid, solar-powered, long-range mesh network built on free, open source software and affordable hardware.


Designed to be open, distributed, and decentralized, disaster.radio is currently in the prototype/development phase.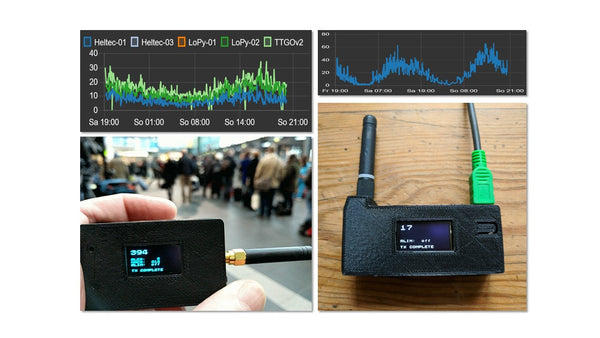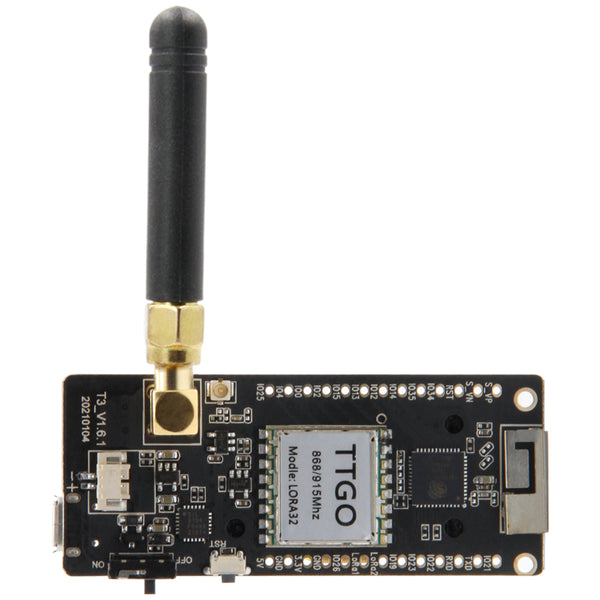 Technology Support [

Github

]
If you need technical support please check the link to find more details.
Paxcounter LoRa32 V2.1_1.6
[GitHub]

ESP32-Paxcounter
TTGO-LoRa-Series

Paxcounter Testing:

LoRa32 V2.1_1.6 Disaster-Radio 

https://disaster.radio/
https://github.com/sudomesh/disaster-radio
https://github.com/sudomesh/disaster-radio/releases/tag/0.2.0

1. Size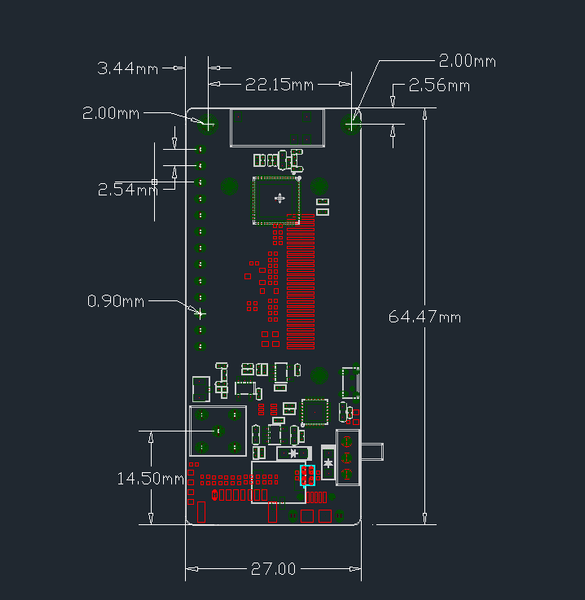 2. Pin Diagram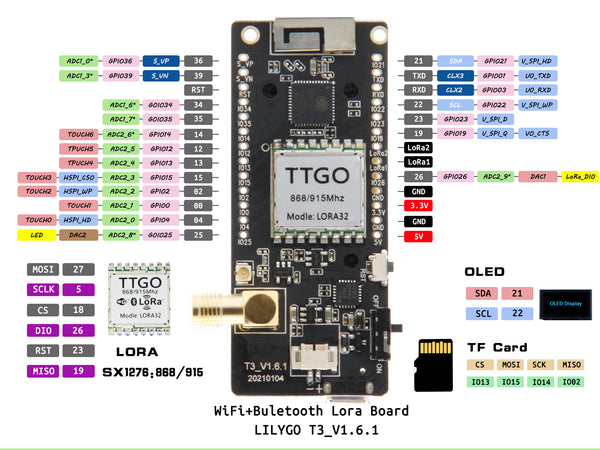 433/868/915 Mhz CH9102F Options
(Notice: The shipping list does not include battery and SD card)
1 X LoRa32 V2.1 433/868/915 Mhz

1 X Power Cable(Jst 2pin 1.25mm)

1 X Antenna

2 X Pin
Share
View full details
How to pay with different payment methods?
Add the products you need to your cart and click on "Checkout" to pay by credit card by following these steps
Step1.
Step2.

Step3.
Step4.
I recommend!
Product consistent with the description. Workmanship at the highest level. Fast delivery. I recommend!
Perfect for a LoRa / MQTT Gateway
I'm using the device to send Messages received from my Mailbox Guard Sensor to my IoBroker home automation - it works perfectly, now I'm notified once the mail comes in.
Lora Review
Fun little device. It cam with a PAX counter as the firmware, I reflashed it for Meshtastic and it works great.
LoRa32 V2.1_1.6
Great product, value for money
Very nice.
Works great with OpenMQTTGateway. I can now see the temperature of my neighbors freezer!