USB To TTL Automatic Downloader Development Board Open Source Module
Regular price
Sale price
$5.69 USD
Unit price
per
Sale
Sold out
⚠️Please note that all policy page on site only applies to items purchased from our store: https://www.lilygo.cc.
Relevant technical or usage issues can be also discussed in our GitHub or Community.
About Tax

At present, the price of the platform does not include any tax.
European customers should pay attention to the tax problem after the package reaches the local country, which needs to be borne/handled by the customer, the local policy shall prevail

[orders over 150 euros may generate tax (Amount for reference only), for orders over this amount, we will not inform the customer separately, so please pay attention to it by yourself.]
Commended User

People with programming foundation[engineers / students / makers, etc..]
Shipping & Delivery

Please read the following rules carefully before submitting your order, otherwise, we can't process your order.


For international orders, please make sure the language of the delivery address is in English
For domestic orders (Mainland China), please make sure the language of the delivery address is Chinese.
For Hong Kong, Macau, and Taiwan orders, please provide your tax ID number, or the corresponding ID card number, and the corresponding GUI Number if the recipient is a company name.

----------------------------------------------------------------

Methods & Delivery Time

Standard Express: 25-30 Days
EUB: 25-30 Days
YunTu Express: 10-20 Days
DHL: 10-17 Days
FedEx: 10-17 Days
YanWen: 20-35 Days

Please note that all delivery times are estimated for reference only.

During ship, maybe some methods of transport do not update the logistic track until the parcel reaches the destination country.

If you do not see one of the above shipping methods when checking out, it may be because your country does not support that shipping method, please select one of the available channels already listed or contact us for help.

Please make sure your address is fully filled in (including province and continent, which will affect the shipping time of your order)

For more details please check our shipping policy.
LILYGO® TTGO T-U2T USB To TTL Automatic Downloader CH9102 Programmer Adapter Serial Development Board Open Source Module

LILYGO® T-U2T USB To TTL Automatic Downloader CH9102

LILYGO T-U2T is the abbreviation of USB To TTL.

The original intention of this product design is that every time you design an ESP32 circuit board, you will find that the same circuit of USB To TTL appears on the schematic, especially when creating a small-sized circuit.

This circuit occupies a lot of space, and it also increases the cost, so we want to change it, Finally, we discovered that each product also has another feature that is the USB interface with TYPE-C.

So based on the characteristics of the male Type-c and female Type-C USB ports, we separately designed the CH9102 USB interface chip and automatic download circuit into the shape of a USB adapter.

We will start with new products (for example T-display e-paper version), there is no longer a duplicate USB To TTL circuit on the motherboard.

And you only need a T-U2T to use the LILYGO motherboard. T-U2T is also an open-source product. Other products with USB To TTL circuits can also be designed to be compatible with T-U2T.

This can not only save space on the circuit board but also save costs, especially in the current environment of a tight supply of chip wafers.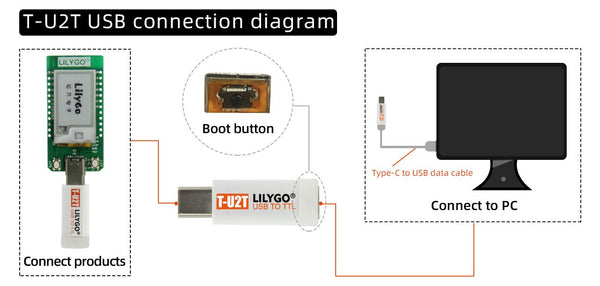 Specification
LILYGO T-U2T parameters
USB chip CH9102 Max Read/Write Speed: 4Mbps

Automatic download circuit

boot button

Power Indicator

Type-C male

Type-C female
Application scenarios
Requires USB To TTL motherboard


1. Size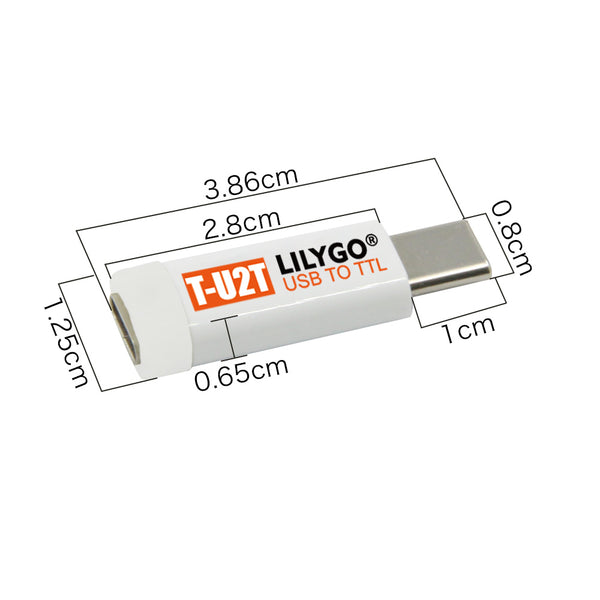 2. Pin Diagram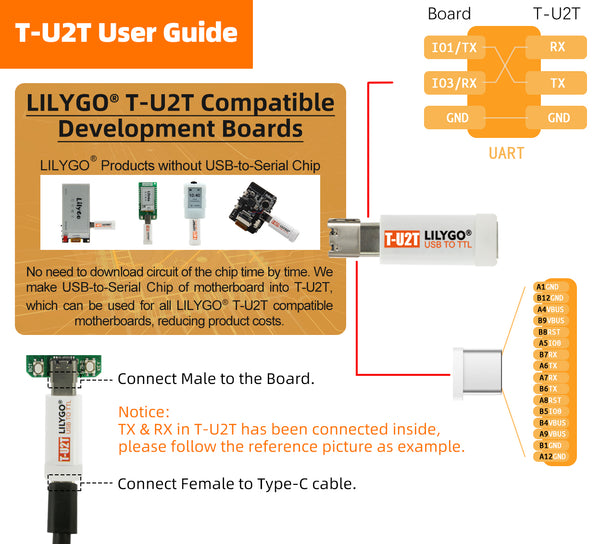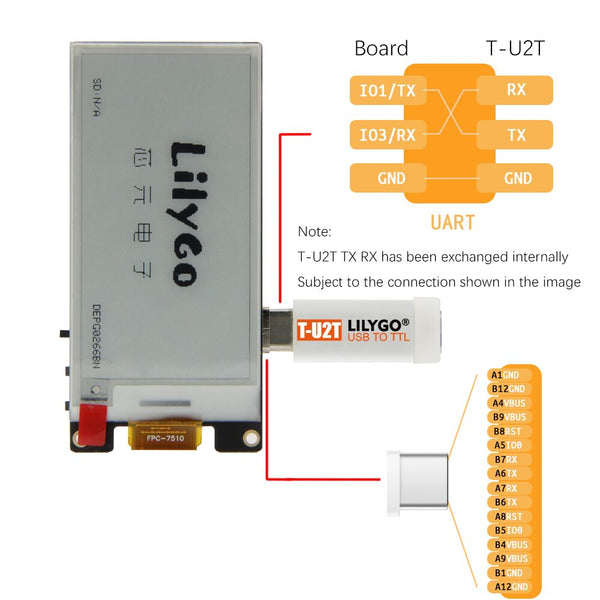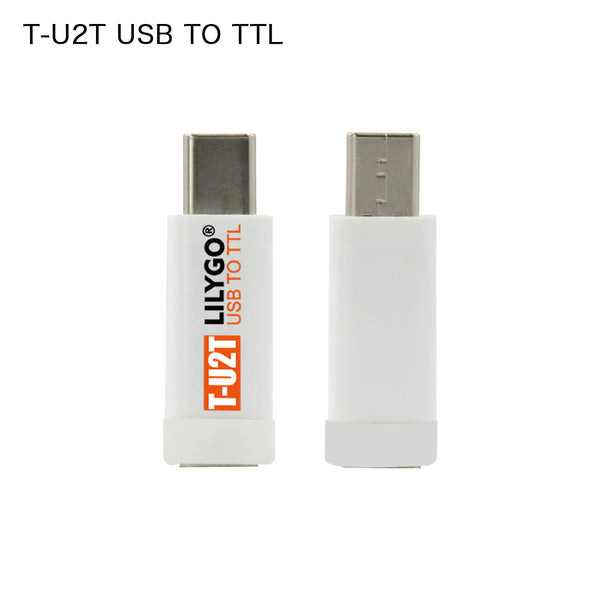 Share
View full details