ESP32-C3 TLSR8258 Zigbee Ultra Low Power IOT Development Board
Regular price
Sale price
$6.89 USD
Unit price
per
Sale
Sold out
⚠️Please note that all policy page on site only applies to items purchased from our store: https://www.lilygo.cc.
Relevant technical or usage issues can be also discussed in our GitHub or Community.
How to pay with different payment methods
About Tax

At present, the price of the platform does not include tax.
Customers in Europe should pay attention to the tax problem after the package reaches the local country.

[orders over 150 euros may generate tax, which needs to be borne/handled by the customer, the local policy shall prevail.]
Commended User

People with programming foundation[engineers / students / makers, etc..]
Shipping & Delivery

Methods & Delivery Time

During ship, maybe some methods of transport do not update the logistic track until the parcel reaches the destination country.

Standard Express: 25-30 Days
EUB: 25-30 Days
YunTu Express: 10-20 Days
DHL: 10-17 Days
FedEx: 10-17 Days

We can ship to DHL/FedEx through a third-party channel (Freight Forwarder) because we don't have DHL/FedEx account.
Means : we --> third-party channel(Freight Forwarder) -->official DHL /Fedex-->you

If you do not see one of the above shipping methods when checking out, it may be because your country does not support that shipping method, please select one of the available channels already listed or contact us for assistance.

Please note that all delivery times are estimated for reference only.

When we are processing the order, if the system suggests that your postcode is remote, we will automatically replace it with another shipping channel of the same class for you (except HDL and FedEx), We will send you an email if there are special situations, or you can leave us a message if you have any requirements.

Please make sure your address is fully filled in (including province and continent, which will affect the shipping time of your order)

For more details please check our shipping policy.
The Version's Picture Hasn't Changed

Please don't worry when the corresponding image doesn't change when you choose a certain version, just focus on the text describing the version and we'll make sure to put the right product in your package!
The T-ZigbeePA version adds a PA chip to the T-Zigbee version and replaces the antenna with stronger signal.
T-Zigbee is LILYGO®'s second motherboard with dual MCUs. (Notice: Two chips can work at the same time.)
Equipped with TLSR8258 Ultra-Low Power chip (Support BLE 5 Mesh, Zigbee, RF4CE, Thread 6LoWPAN, HomeKit, ANT 2.4GHz Proprietary Standard) and ESP32-C3 chip (Support WIFI and Bluetooth).
Kind Tips

Specifications
MCU 1
TLSR8258 Ultra-low-power MCU supporting ZigBee and BLE5
Wireless
 Support BLE 5 Mesh, Zigbee, RF4CE, Thread
6LoWPAN、HomeKit、 ANT 2.4GHz proprietary standard
With PGA, AMIC, DMIC, 6-channel PWM function
Programmable LED
Red LED: PD04 
Green LED
 PA00
MCU 2
ESP32-C3
Equipped with RISC-V processor SoC
Support 2.4 GHz Wi-Fi and Bluetooth 5 (LE)
Main frequency 160 MHz, built-in 400 KB SRAM, 384 KB ROM
 Programmable buttons
IO02
LED
IO03

Technology Support [

Github

]
If you need technical support please check the link to find more details.

1. Appearance Details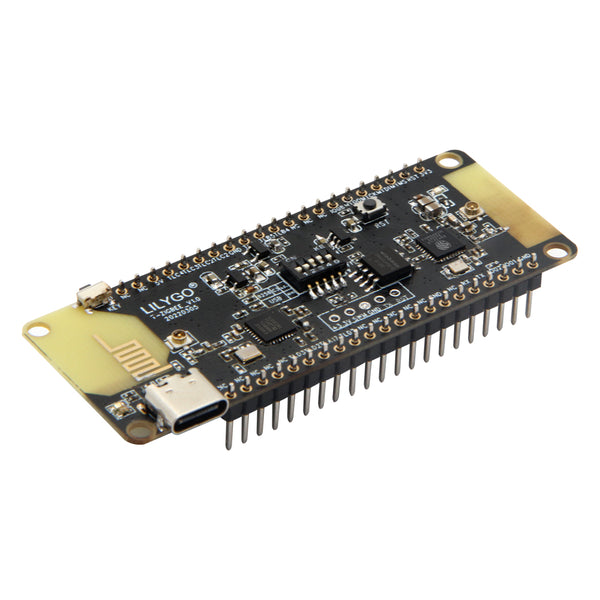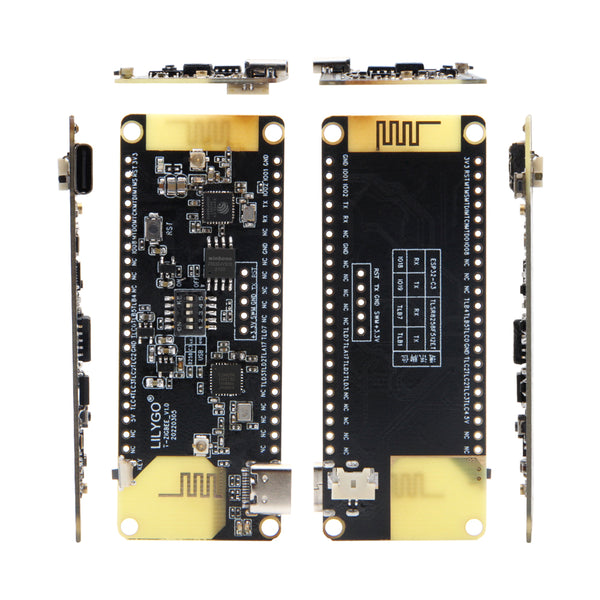 2. Size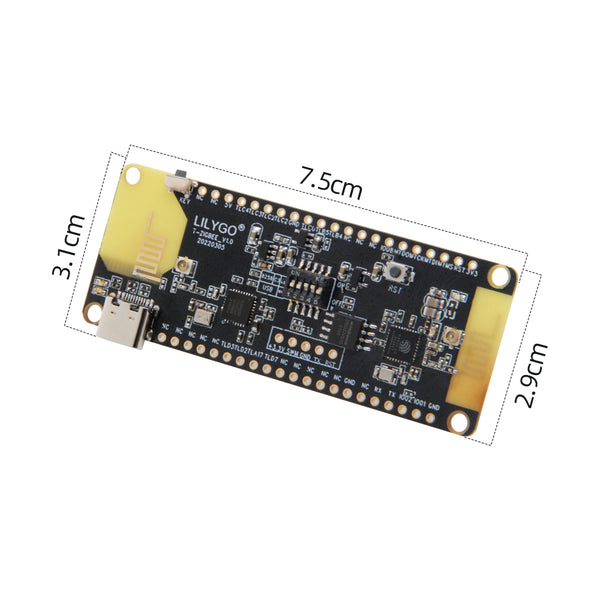 3. Pin Diagram
T-Zigbee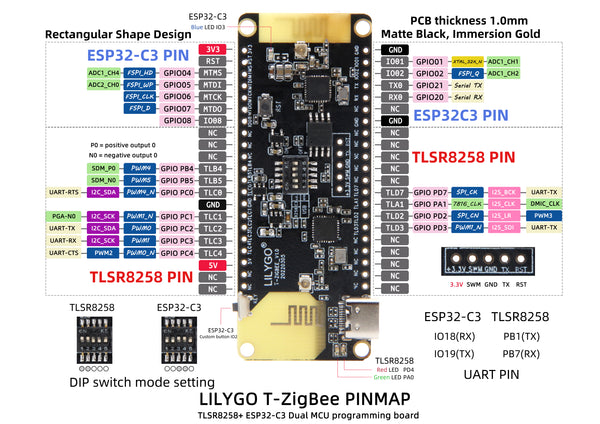 T-Zigbee PA

T-Zigbee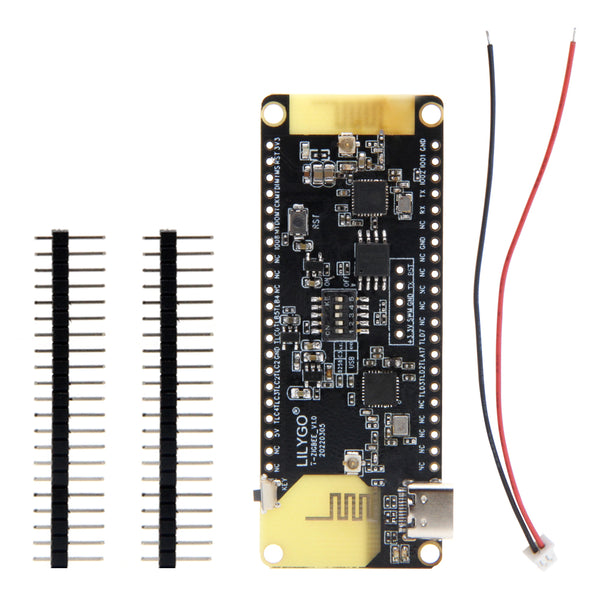 T-Zigbee + T-U2T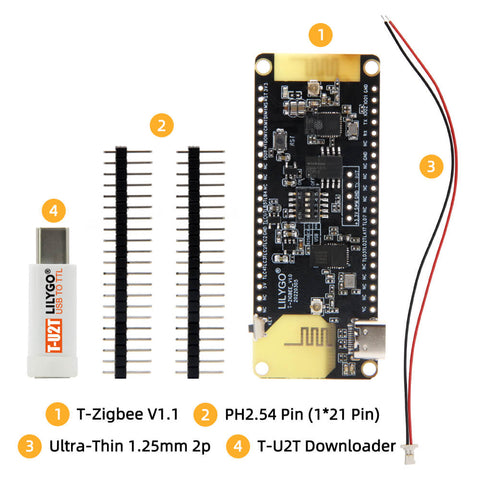 T-Zigbee PA
T-Zigbee PA + T-U2T
Share
View full details
How to pay with different payment methods?
Add the products you need to your cart and click on "Checkout" to pay by credit card by following these steps
Step1.
Step2.

Step3.
Step4.
Great toy, docs are sparse though.
The hardware is really interesting and seems to work as it says. The documentation is pretty lacking though. There are examples of usage but all that is available for zbhci is mostly a generated docs placeholder. Somebody familiar with it needs to go at it and describe all the methods etc. I've been in the source and had to reverse engineer things to be able to use it.