ESP32 Soil Tester DHT11 BEM280 Garden Flowers Temperature
Regular price
Sale price
$8.83 USD
Unit price
per
Sale
Sold out
⚠️Please note that all policy page on site only applies to items purchased from our store: https://www.lilygo.cc.
Relevant technical or usage issues can be also discussed in our GitHub or Community.
About Tax

At present, the price of the platform does not include tax.
Customers in Europe should pay attention to the tax problem after the package reaches the local country.

[orders over 150 euros may generate tax, which needs to be borne/handled by the customer, the local policy shall prevail.]
Commended User

People with programming foundation[engineers / students / makers, etc..]
Shipping & Delivery

Our default shipping method: General transportation
[shipped by Freight Forwarder]

Receive Package

After shipment:

15-30days

【PS: If there are force majeure factors such as epidemic situation/ strike or local policy adjustment, transportation may be delayed,Maybe you will receive your package within 17-70 days】

Note: All the times just for reference only

Tracking your order:

http://m-track.4px.com/#/

Also, if you want to get other shipping support please reference our shipping policy.
LILYGO® T-Higrow ESP32 Soil Tester DHT11 BEM280 Garden Flowers Temperature Moisture Sensor WiFi Bluetooth Wireless Control Meter
T-Higrow Introduction
This capacitive soil moisture sensor differs from most of the resistive sensors on the market, using the capacitive sensing principle to detect soil moisture.

It avoids the problem that the resistance sensor is easy to corrode and greatly prolongs its working life.
Note:
Since BME280 already includes temperature and humidity sensor, it already includes the function of DHT11, we have removed the DHT11 sensor on the BME280 version to reduce costs.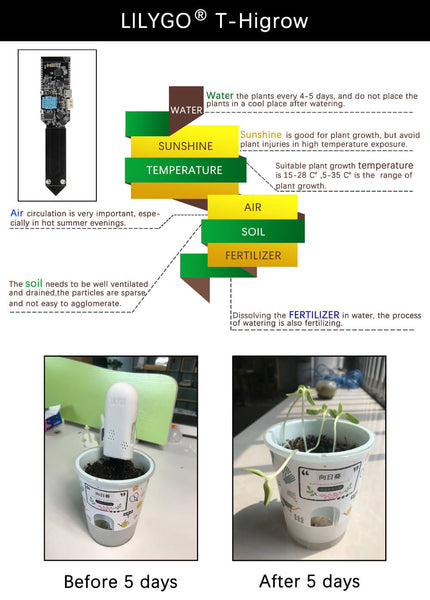 Specifications
 

MCU

ESP32

FLASH

4MB

Wi-Fi

802.11 b/g/n
 Xtensa dual-core 32-bit LX6 microprocessor
Bluetooth

 

BLE V4.2

Onboard

Reset Button + Custom Button IO35 + ABS material shell + Jst 2pin 1.25mm connector

Version Optional

DHT11/ BME280 Version

Digital 16bit Ambient Light Sensor
SDA: IO25; SCL: IO26

IC Name

BH1750

Interface

I2C bus
Wide range and High resolution(1 - 65535 lx)
50Hz/ 60Hz Light noise reject-function
Main function
Soil Fertility detection

Soil moisture detection

Light intensity detection

Ambient temperature and humidity 6. USB+200mA battery

Low power sleep
Technology Support [

Github

]
If you need technical support please check the link to find more details.
3D Shell Print Download:
T-Higrow LoRa 868MHz / 915MHz Function Expansion Board
Waiting...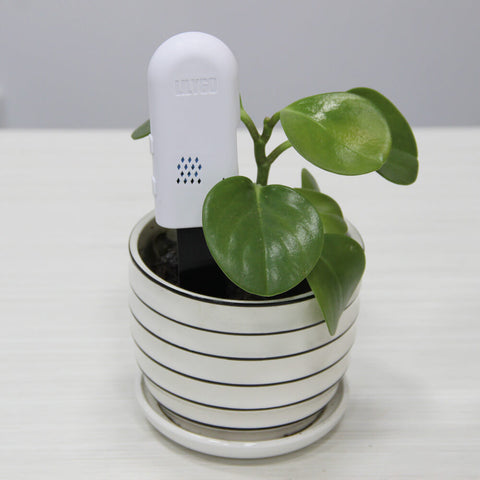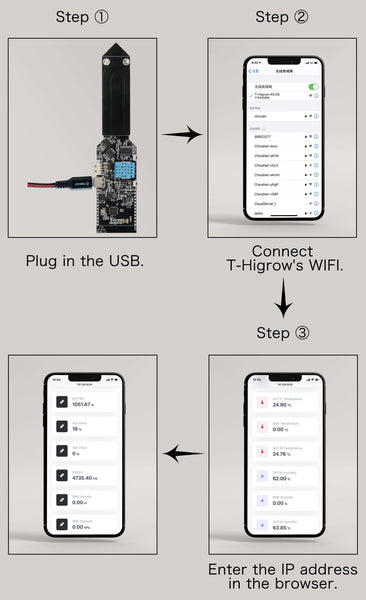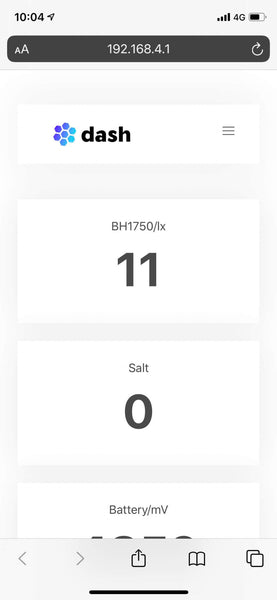 T-Higrow can be used with T-Higrow and T-Watch with Grove interface.
For example:
It can be used with T-Higrow to test the temperature and humidity of flowerpot soil and environment, as well as the water temperature of the fish tanks when raising fish. Of course, it can also test other temperatures as long as you want.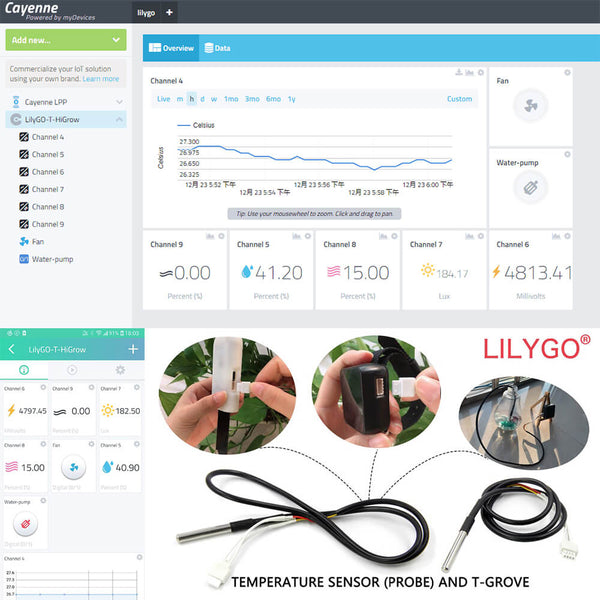 1. Size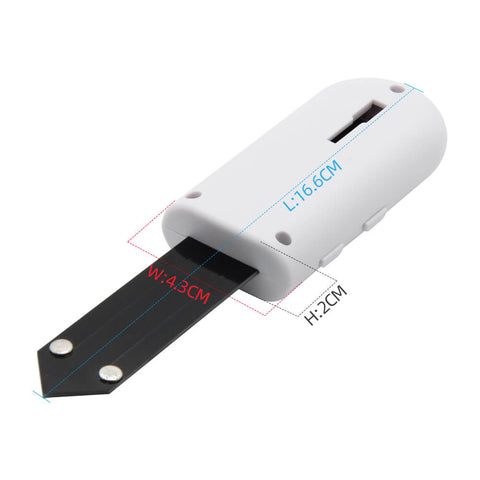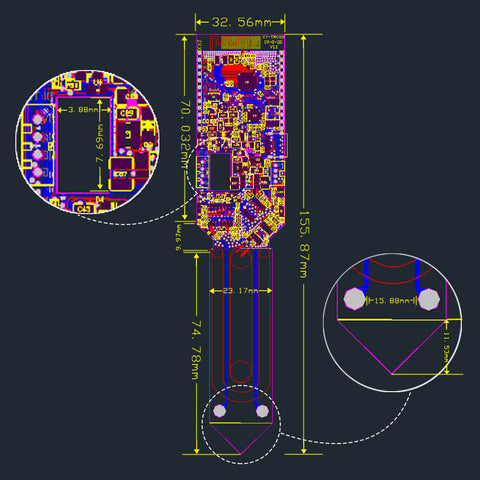 2. Pin Diagram
BME280
DHT11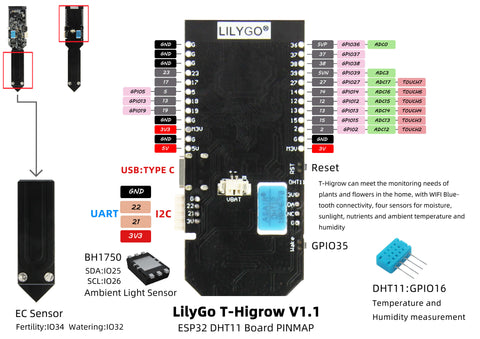 3. Appearance details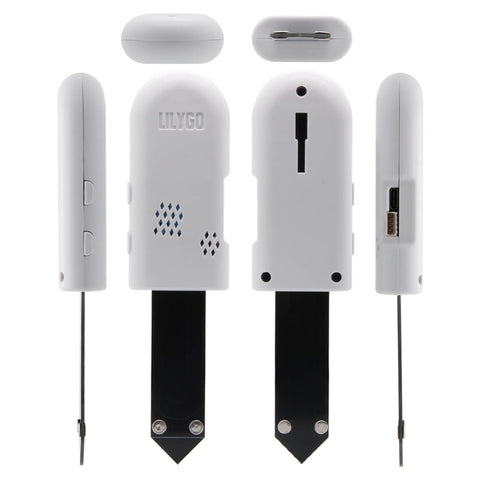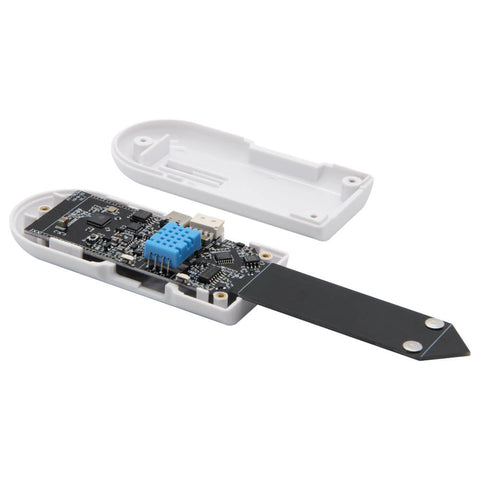 T-Higrow DHT11 CH9102 Options
1 x T-Higrow DHT11

1 x Power cable

2 x Pin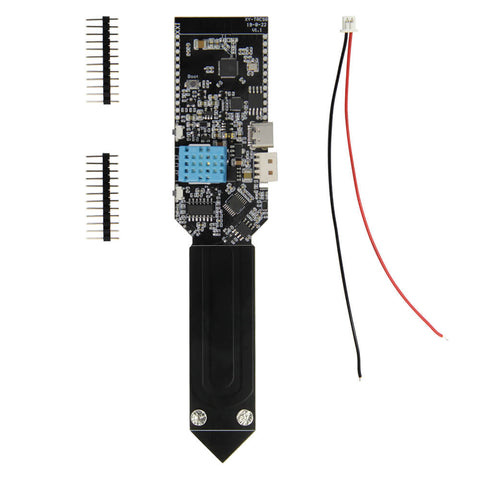 T-Higrow DHT11 Kit CH9102 Options

(Include T-Higrow Module ,White ABS Shell and Built-in 200 mAh lithium battery)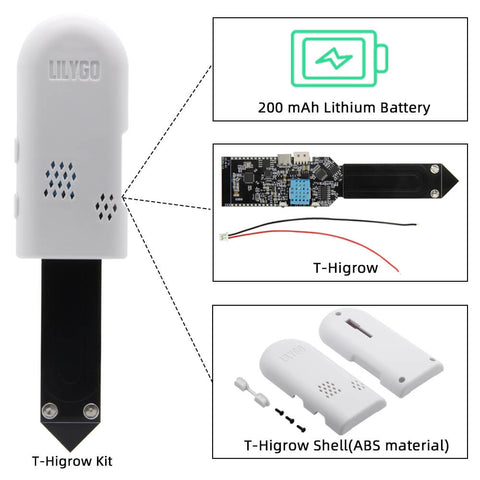 T-Higrow BME280 CH9102 Options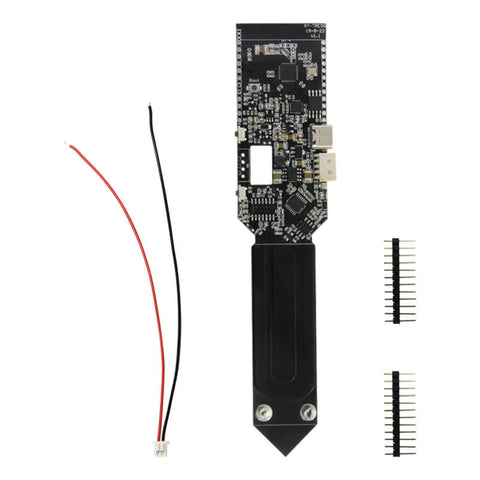 T-Higrow BME280 Kit CH9102 Options

(Include T-Higrow Module, White ABS Shell, and Built-in 200 mAh lithium battery)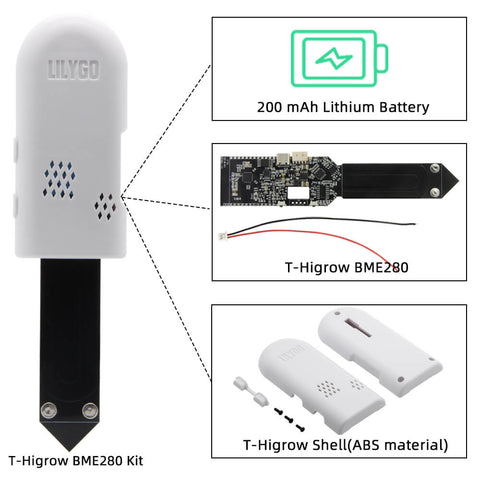 Share
View full details