SotfRF LoRa SX1262 433/868/915MHz Wireless Module
Regular price
Sale price
$54.41 USD
Unit price
per
Sale
Sold out
⚠️Please note that all policy page on site only applies to items purchased from our store: https://www.lilygo.cc.
Relevant technical or usage issues can be also discussed in our GitHub or Community.
How to pay with different payment methods
About Tax

At present, the price of the platform does not include tax.
Customers in Europe should pay attention to the tax problem after the package reaches the local country.

[orders over 150 euros may generate tax, which needs to be borne/handled by the customer, the local policy shall prevail.]
Commended User

People with programming foundation[engineers / students / makers, etc..]
Shipping & Delivery

Methods & Delivery Time

During ship, maybe some methods of transport do not update the logistic track until the parcel reaches the destination country.

Standard Express: 25-30 Days
EUB: 25-30 Days
YunTu Express: 10-20 Days
DHL: 10-17 Days
FedEx: 10-17 Days

We can ship to DHL/FedEx through a third-party channel (Freight Forwarder) because we don't have DHL/FedEx account.
Means : we --> third-party channel(Freight Forwarder) -->official DHL /Fedex-->you

If you do not see one of the above shipping methods when checking out, it may be because your country does not support that shipping method, please select one of the available channels already listed or contact us for assistance.

Please note that all delivery times are estimated for reference only.

When we are processing the order, if the system suggests that your postcode is remote, we will automatically replace it with another shipping channel of the same class for you (except HDL and FedEx), We will send you an email if there are special situations, or you can leave us a message if you have any requirements.

Please make sure your address is fully filled in (including province and continent, which will affect the shipping time of your order)

For more details please check our shipping policy.
The Version's Picture Hasn't Changed

Please don't worry when the corresponding image doesn't change when you choose a certain version, just focus on the text describing the version and we'll make sure to put the right product in your package!
LILYGO® TTGO SotfRF T-Echo NRF52840 LoRa SX1262 433/868/915MHz Wireless Module L76K GPS 1.54 E-Paper BME280 Sensor for Arduino
 Specification
MCU

NRF52840

FLASH

2MB

RAM

2MB

Bus Interfaces

UART, SPI, TWI, PDM, 12S, QSPI

Wireless Connectivity

Bluetooth 5, Thread,




Bluetooth Mesh, ANT, 802.15.4, Zigbee




With/Without BME280 temperature pressure sensor

SX1262 LoRa Transceiver

 

Long Range, Low Power




Global frequency coverage 433, 868, 915Mhz

Enclosure material 

ABS

Version

Normal version / BME280 

version

1.54-inch SPI E-Paper Display
Grey level

2

Resolution

200x200

 

Full refresh time

2S

L76K Multi-System Positioning GNSS module

Support System

GPS, GLONASS, BeiDou, QZSS

Support Function

 LNA, SAW Filter, AGNSS, 1PPS
Improved receiving and anti-interference attributes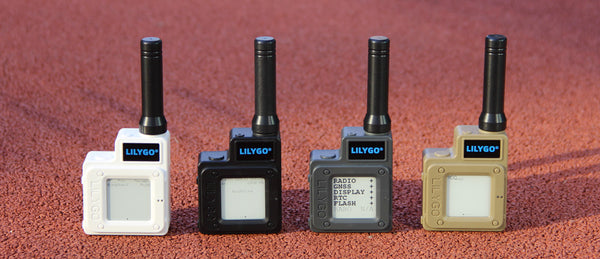 LILYGO® TTGO T-Echo Introduce:
LILYGO® TTGO T-Echo is a version evolved from LILYGO T-BEAM.
At the beginning of the design, more consideration was to adapting to Meshtastic and SotfRF, so Bluetooth and low power consumption were considered when designing, and NRF52840 Advanced Bluetooth 5 was selected Thread and Zigbee multiprotocol SoC.
The LORA function continues T-BEAM's LILYGO SX1262 version functional module.
T-SX1262 wireless transceiver module, using Semtech SX1262 LORA RF transceiver chip design, working in the 868/915MHz ISM frequency band, integrated high stability TCXO 32MHz crystal oscillator, half-duplex transceiver module, power up to +22dBm, receiving sensitivity -139dBm. Automatic transceiver Switching, internal transmission, reception channel isolation, advanced LORA spread spectrum communication technology, strong anti-interference, and privacy can realize long-distance wireless data transmission and reception.
Technology Support [Github]
If you need technical support please check the link to find more details.
Basic Example:
https://github.com/Xinyuan-LilyGO/LilyGO-T-Echo

https://github.com/lyusupov/SoftRF/wiki/Badge-Edition
SotfRF :
https://github.com/lyusupov/SoftRF/wiki/SoftRF-Configuration-Tool
T-Echo Meshtastic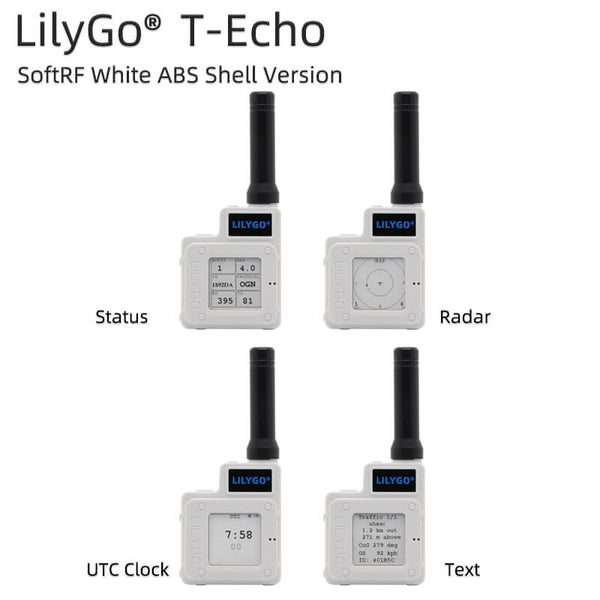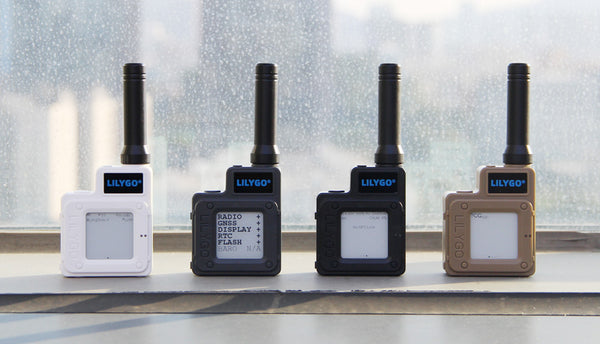 Application scenarios:
- DIY creation    - LoRa networking   - GPS positioning   - IOT terminal control - Stem education product
Features of the module:
Multi-satellite positioning system L76K is a support multi-satellite system (GPS, BeiDou, GLONASS, QZSS), multi-system joint positioning, and single system independent positioning, support AGNSS function, built-in low noise amplifier, and surface filter, can provide users GNSS module with fast, accurate and high-performance positioning experience.
Compared with a single GPS system, the high-precision positioning multi-satellite system greatly increases the number of visible and usable satellites, improves positioning accuracy, and can achieve stable high-precision positioning even in complex urban environments.
It supports the AGNSS function, which can greatly Reduce the time for the first positioning, built-in low-noise amplifier, can achieve high sensitivity, high-precision positioning, and fast signal capture and tracking, even under weak signal conditions can also ensure a good positioning performance, built-in surface acoustic filter, can greatly The anti-interference ability of the module is enhanced, and the active antenna detection circuit and protection circuit are integrated inside to protect the module and the active antenna from damage.
The display uses a 1.54-inch electronic paper display with front light, 200x200 resolution 1.54 front LED E-paper, and it can be used in a dark environment.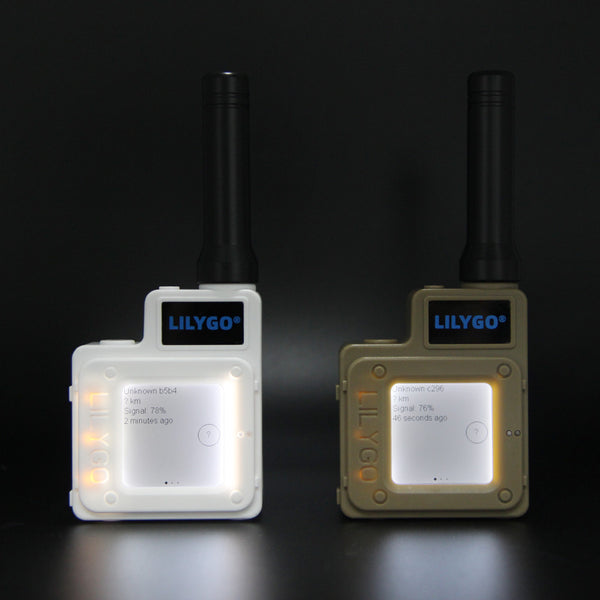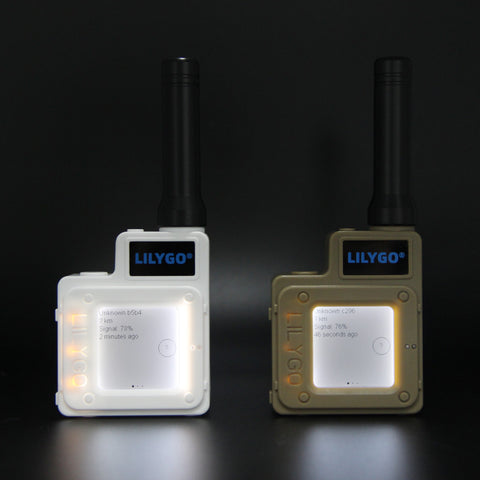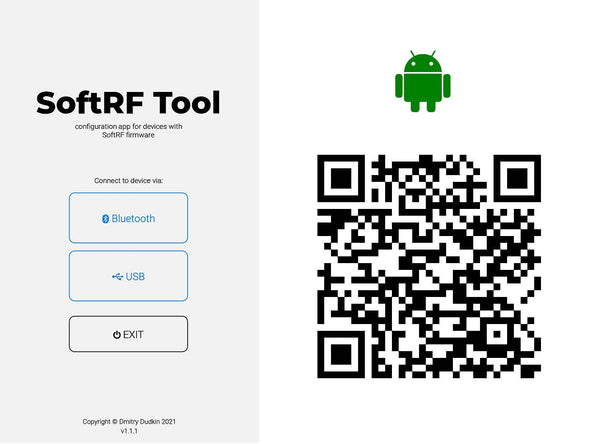 1. Size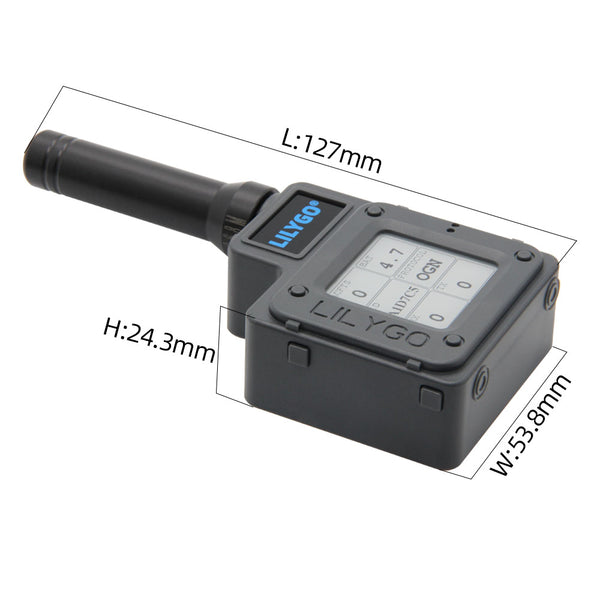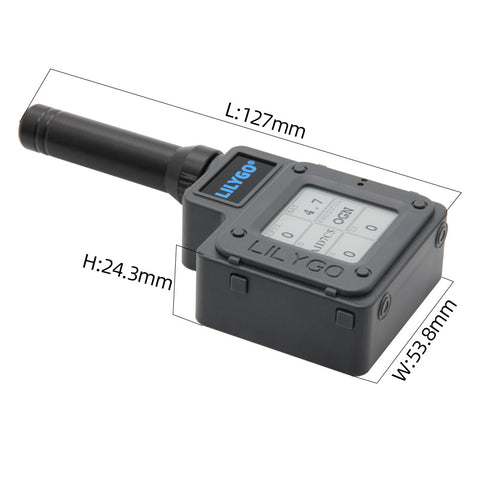 2. Pin Diagram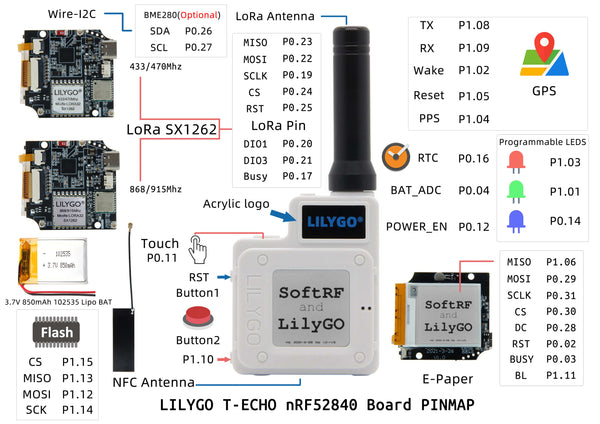 3. Appearance Details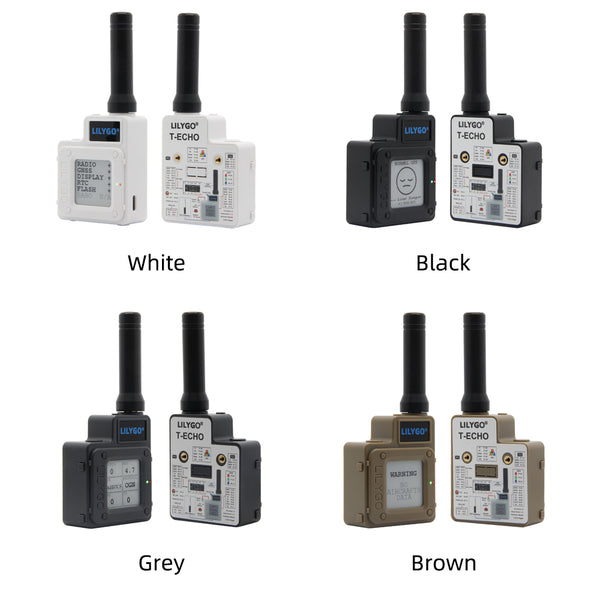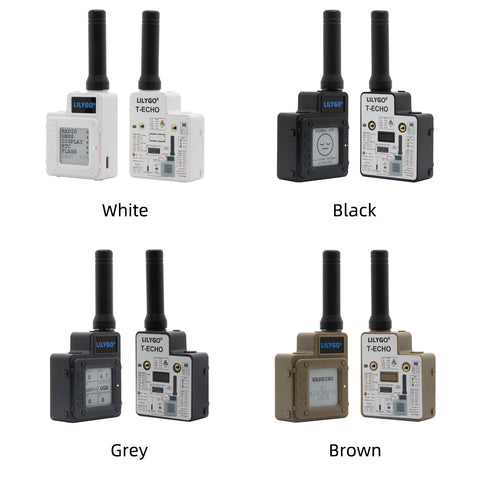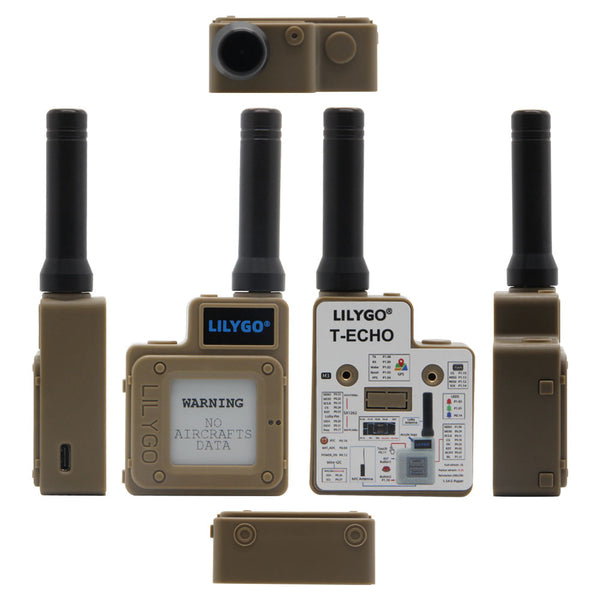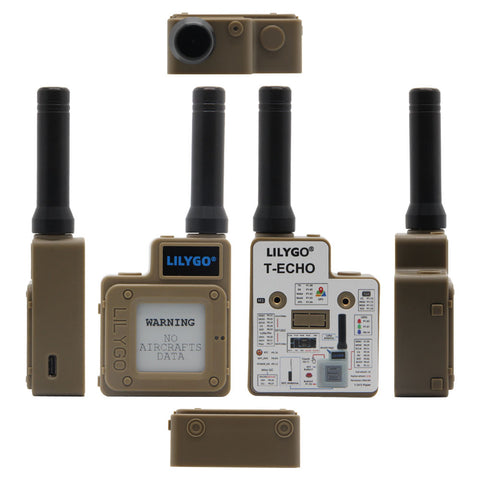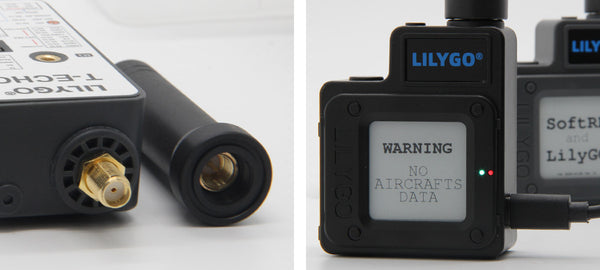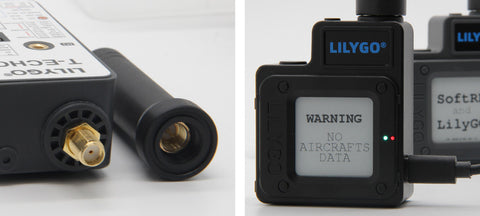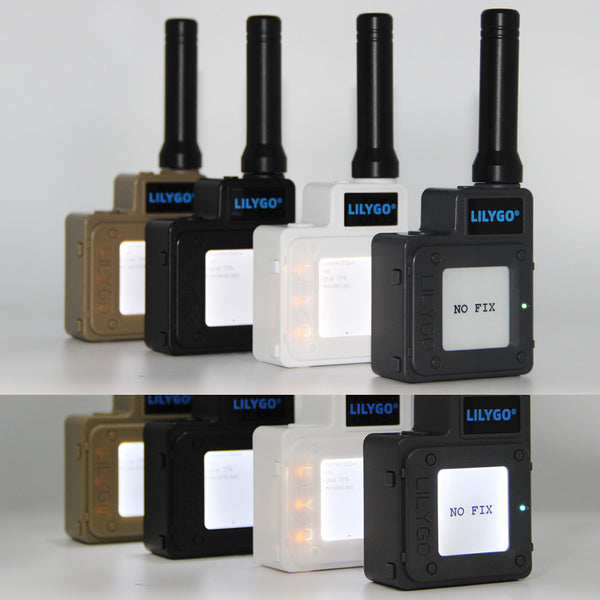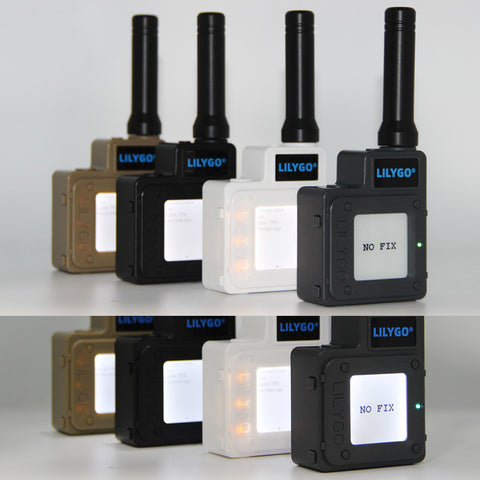 T-Echo 433/868/915MHz Normal Options 
T-Echo

 

1 X T-ECHO Motherboard
1 X GPS Antenna
1 X LORA 915/868/433MHz Antenna
1 X NFC Antenna
1 X Touch Cable
1 X Jst 2pin1.25mm Battery Cable
1 X 850mA Capacity Battery
1 X ABS Material Enclosure
1 X Type-C USB Cable

(The color depends on the version you choose)
T-Echo 433/868/915MHz BME280 Kit Options
T-Echo

 

1 X T-ECHO Motherboard [BME280]
1 X GPS Antenna
1 X LORA 915/868/433MHz Antenna
1 X NFC Antenna
1 X Touch Cable
1 X Jst 2pin1.25mm Battery Cable
1 X 850mA Capacity Battery
1 X ABS Material Enclosure
1 X Type C USB Cable

(The color depends on the version you choose)
Share
View full details
How to pay with different payment methods?
Add the products you need to your cart and click on "Checkout" to pay by credit card by following these steps
Step1.
Step2.

Step3.
Step4.
Works as advertised
Plugged in, switched on, set up and away it goes
Very nice piece of hardware
Firstly I'd like to say that for the price, this is an absolutely fantastic device, and I've been genuinely impressed with all of the LilyGO products that I have tried so far.
The two things I wish this device would have however are a mini speaker or buzzer for SoftRF alerts, and WiFi capabilities. Otherwise it is in my view a perfect product.
Delivery was reasonably prompt and the buying process through the LilyGO website was seamless.
Fonctionne parfaitement
Testé en vol avec une application de suivi qui détecte les trafics flarms. Les indications du t-echo sont en accord avec l'application... sur laquelle je suis moi-même visible. Bref, un petit flarm totalement fonctionnel pour moins de 100€