Microphone ESP32 WIFI Bluetooth Touchable Watch Speaker Three-axis
Regular price
Sale price
$33.42 USD
Unit price
per
Sale
Sold out
⚠️Please note that all policy page on site only applies to items purchased from our store: https://www.lilygo.cc.
Relevant technical or usage issues can be also discussed in our GitHub or Community.
About Tax

At present, the price of the platform does not include any tax.
European customers should pay attention to the tax problem after the package reaches the local country, which needs to be borne/handled by the customer, the local policy shall prevail

[orders over 150 euros may generate tax (Amount for reference only), for orders over this amount, we will not inform the customer separately, so please pay attention to it by yourself.]
Commended User

People with programming foundation[engineers / students / makers, etc..]
Shipping & Delivery

Please read the following rules carefully before submitting your order, otherwise, we can't process your order.


For international orders, please make sure the language of the delivery address is in English
For domestic orders (Mainland China), please make sure the language of the delivery address is Chinese.
For Hong Kong, Macau, and Taiwan orders, please provide your tax ID number, or the corresponding ID card number, and the corresponding GUI Number if the recipient is a company name.

----------------------------------------------------------------

Methods & Delivery Time

Standard Express: 25-30 Days
EUB: 25-30 Days
YunTu Express: 10-20 Days
DHL: 10-17 Days
FedEx: 10-17 Days
YanWen: 20-35 Days

Please note that all delivery times are estimated for reference only.

During ship, maybe some methods of transport do not update the logistic track until the parcel reaches the destination country.

If you do not see one of the above shipping methods when checking out, it may be because your country does not support that shipping method, please select one of the available channels already listed or contact us for help.

Please make sure your address is fully filled in (including province and continent, which will affect the shipping time of your order)

For more details please check our shipping policy.
LILYGO® T-Watch 2020 400mAh Version Microphone ESP32 WIFI Bluetooth Touchable Watch Speaker Three-axis Accelerometer Pedometer 
Note
Based on factory firmware testing, with a battery voltage of 4.1V-4.2V, the screen is observed every 2 hours, displaying for approximately 15 seconds before automatically resting. The standby battery life is approximately 48 hours.

About T-Watch 2020 V1
T-Watch 2020 V1 is based on a design concept that can be programmed, can be worn, can be networked, and can be interactive.
Integrated ESP32 with WIFI/Bluetooth, easy to program and develop, and more convenient to connect to the Internet.
2D IPS 1.54-inch watch capacitive touch screen using OCA process, zinc alloy metal process frame, making the device structure more robust and beautiful. Suitable for wearable use, The sensitive capacitive touch screen makes human-computer interaction smoother.
About T-Watch 2020 V3
T-Watch 2020 V3 is based on the hardware function of T-Watch 2020 V1 and adds the PDM microphone function, which makes the product functions richer and more interesting. The MAX98357 I2S speaker is connected to the cloud and can be used to make intelligent voice control.


Tip: You need to turn on the switch when you turn it on for the first time, and it is recommended to turn off the battery switch when it is not used for a long time.
Technology Support [

Github

]
If you need technical support please check the link to find more details.
1. Basic tutorial (

YouTube

)
2. Github Link (

For sample code

)
3. T-Watch-2020 document:
4. Micropython ESP32 Firmware Download: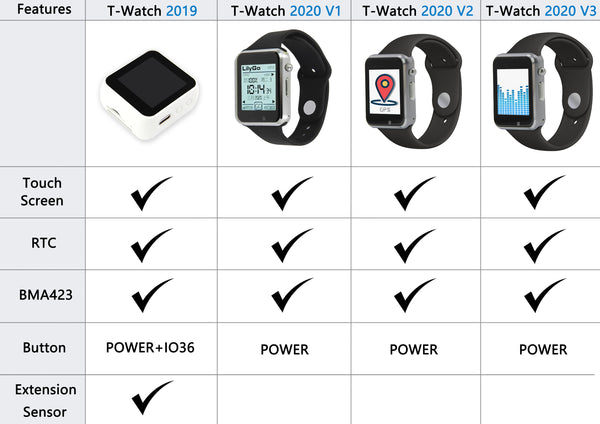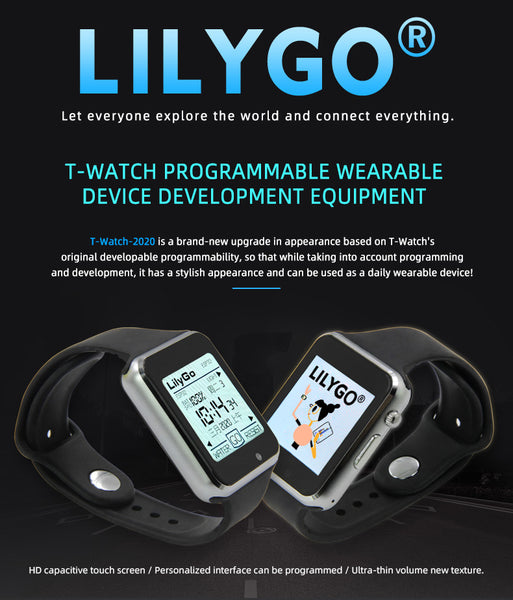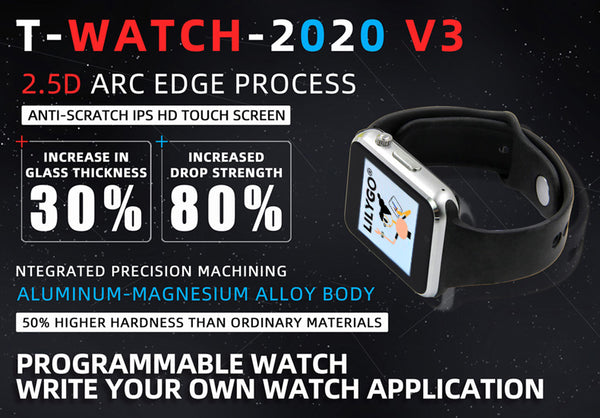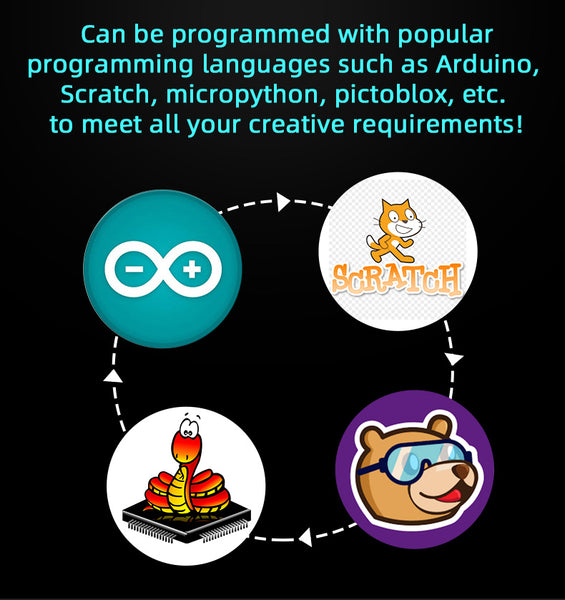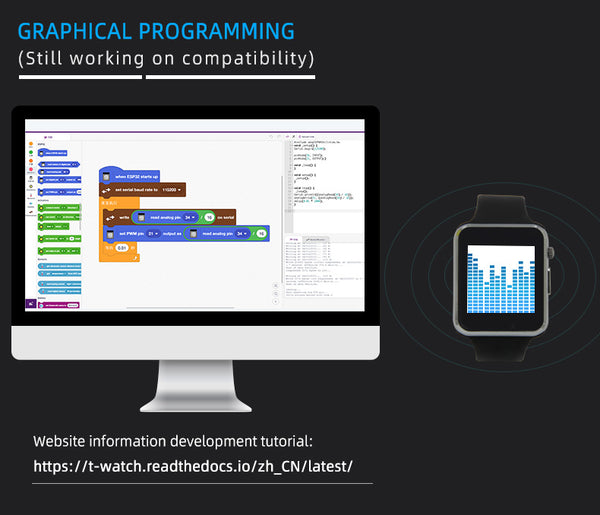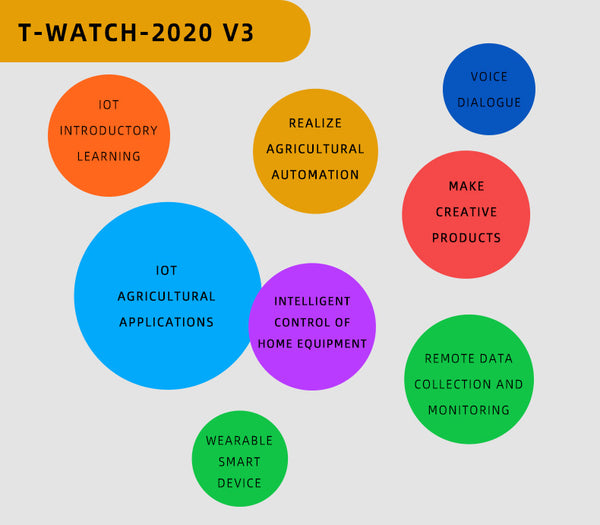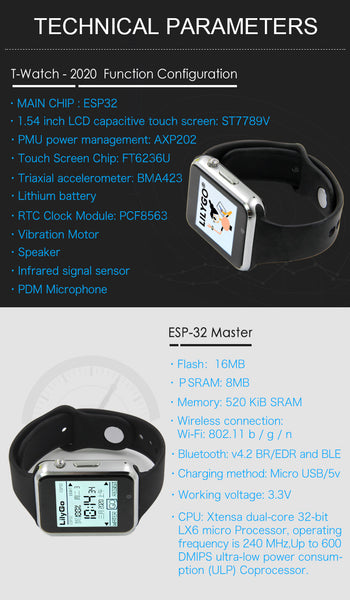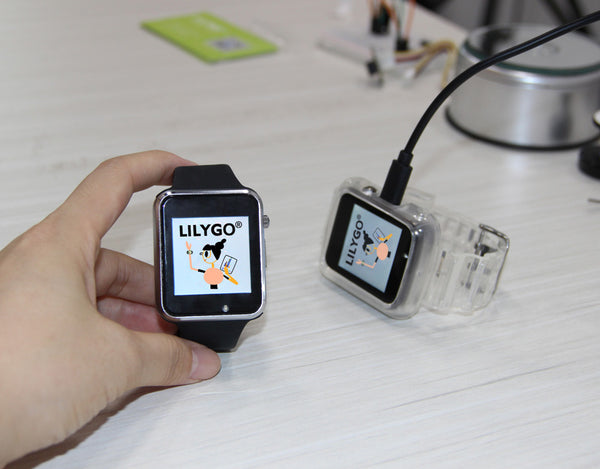 1. Color Contrast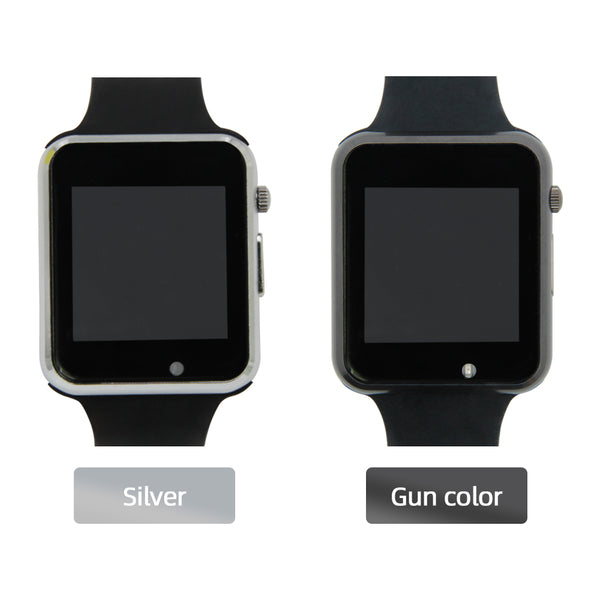 2. Size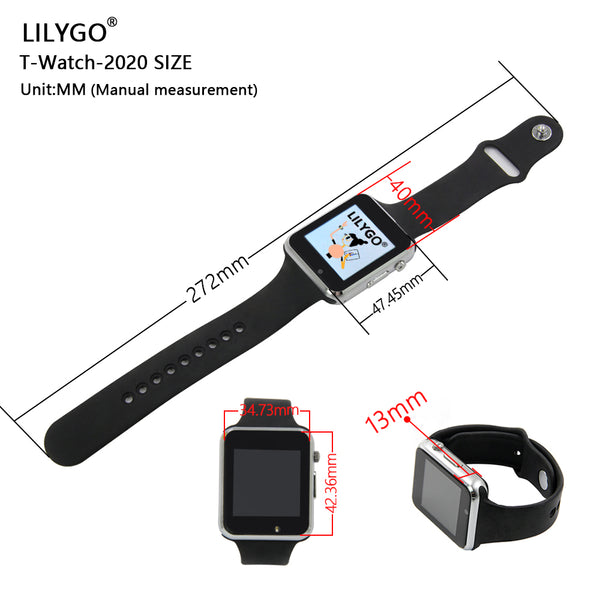 3. Pin Diagram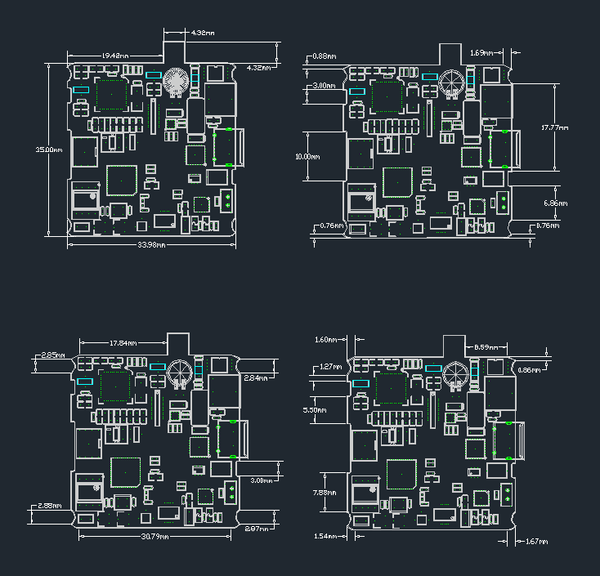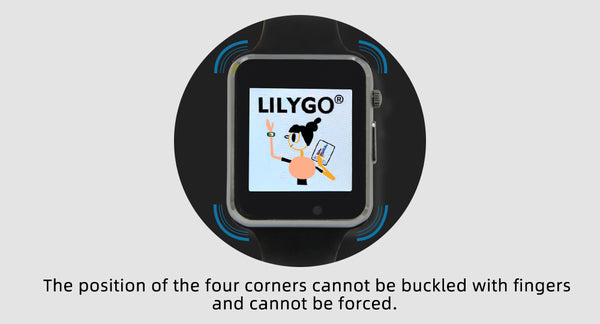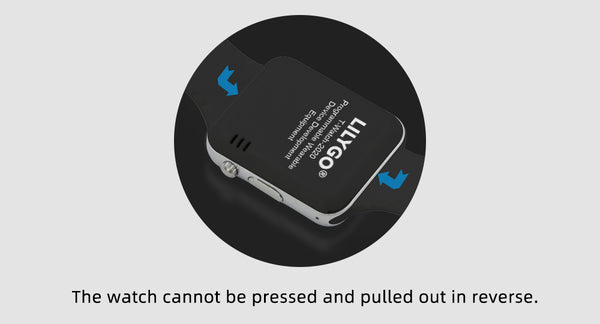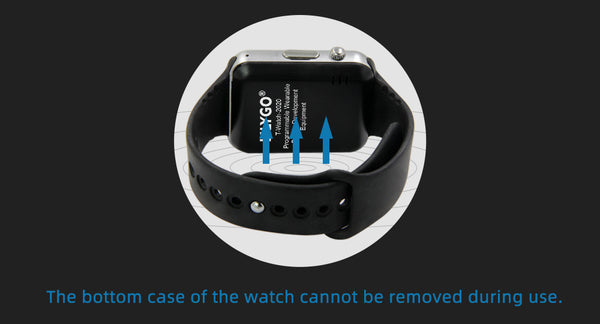 T-Watch 2020 V3 CH9102 Chip Gun Color 
1 X T-Watch 2020 V3 Gun Color (400mAh)
1 X Micro USB Charging Cable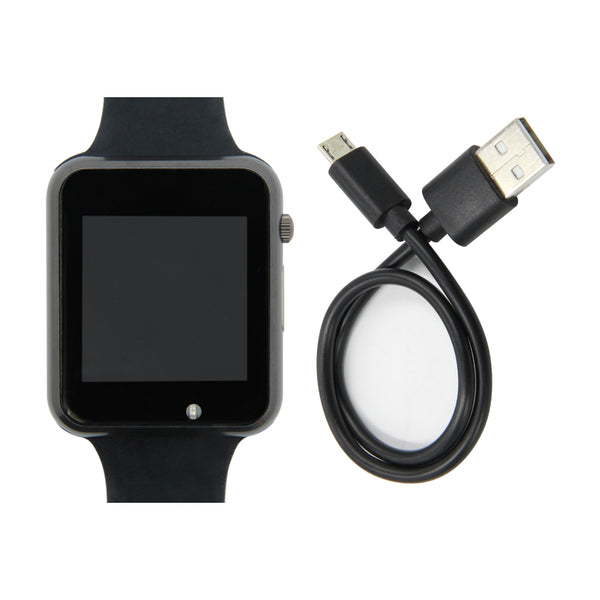 T-Watch 2020 (V1/V3) CH9102 Chip

 

Silver 
1 X T-Watch 2020 (V1/V3) Silver (400mAh)
1 X Micro USB Charging Cable
Share
View full details
Best watch ever
Hi Team Lilygo,
This watch is incredible, I showed this watch to my audience via social platform and a lot of interaction wven on it's unboxing video I got 10k+ views 😍.
I am making series on it and complete it soon
Everything I love about ESP32/Arduino, but better
I love boards such as Arduino thanks to the amazing creative potential. With the right amount of skill and interest (and time), one can create pretty much anything. The T-Watch 2020 (v3) I just received goes even beyond. It's tidy, lightweight and completely codeable. Also it has an amazing set of capabilities, thanks to the great selection of hardware components. It's only been a day since I received my watch and I already spent hours and hours exploring the library and creating a very specific watch for my needs - and some more time creating games and IR control apps for my home appliances. It's amazing, simply amazing. If you like the freedom of customizing and learning, this product is an excellent option.
Wow, it sounds like you've made yourself a satisfying watch, congratulations. Thank you for your sharing.
Looking forward to hearing more about your voice.
Not received the product even after 15 days of order
Sorry cannot tater as it's over 15 days have not received the product yet that was ordered
Hi Ganesh,
We check that you have signed up for the order, thank you for your support to LILYGO