Dual ARM Raspberry Pi Module 1.14 inch Screen Development Board
Regular price
Sale price
$10.00 CAD
Unit price
per
Sale
Sold out
⚠️Please note that all policy page on site only applies to items purchased from our store: https://www.lilygo.cc.
Relevant technical or usage issues can be also discussed in our GitHub or Community.
About Tax

At present, the price of the platform does not include tax.
Customers in Europe should pay attention to the tax problem after the package reaches the local country.

[orders over 150 euros may generate tax, which needs to be borne/handled by the customer, the local policy shall prevail.]
Commended User

People with programming foundation[engineers / students / makers, etc..]
Shipping & Delivery

Our default shipping method: General transportation
[shipped by Freight Forwarder]

Receive Package

After shipment:

15-30days

【PS: If there are force majeure factors such as epidemic situation/ strike or local policy adjustment, transportation may be delayed,Maybe you will receive your package within 17-70 days】

Note: All the times just for reference only

Tracking your order:

http://m-track.4px.com/#/

Also, if you want to get other shipping support please reference our shipping policy.
T-Display RP2040 Dual ARM Raspberry Pi Module 1.14 inch LCD IPS HD Screen Circuits Development Board for Arduino
MCU

RP2040 Dual ARM Cortex-MO+

FLASH

4MB

Bus Interfaces

2 UART, 2x SPI, 2xl2C, 6 PWM

Programming language

 

C/C++, MicroPython
Support machine learning library TensorFlow Lite
Onboard functions

 

IO06+IO07, battery power detection

ST Connect type

JST GH 1.25mm
 Support USB/Li-P0 Battery Dual power supply
1.14 inch ST7789V IPS LCD
Resolution

 

135X240, Full Color TFT Display, 4-Wire SPI interface

Working Power Supply

3.3V

Operating Temperature

-20 - 70°C



Technology Support [

Github

]
If you need technical support please check the link to find more details.
Official Website Example GitHub (C Language)
Micropython Getting Started (Raspberrypi)
C/C++ Getting Started (Raspberrypi)
Quick start
1. Open up the Arduino IDE and go to File->Preferences.
2. In the dialog that pops up, enter the following URL in the "Additional Boards Manager URLs" field:

https://github.com/earlephilhower/arduino-pico/releases/download/global/package_rp2040_index.json
3. Go to Tools->Boards->Board Manager in the IDE
4. Type "pico" in the search box and select "Add":
5. Copy TFT_eSPI to the <C:\Users\Your User Name\Documents\Arduino\libraries> directory
6. Open Arduino IDE, find TFT_eSPI in the file and example, the T-Display factory test program is located at TFT_eSPI -> FactoryTest, you can also use other sample programs provided by TFT_eSPI
7. In the Arduino IDE tool options, select the development board, Raspberry Pi Pico,
Other keep the default
8. Hold down the BOOT button, click the reset button, and release the BOOT button after a delay of one second or after waiting for the computer to eject a new disk
9. Finally, click upload or drag the firmware to the new disk

1. Size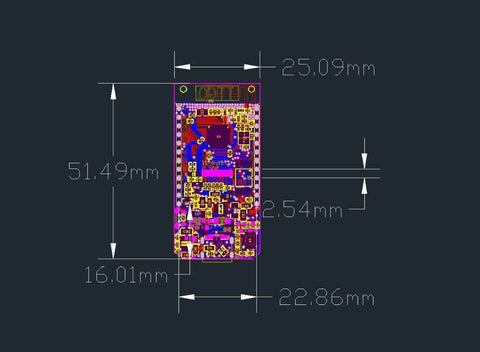 2. Pin Diagram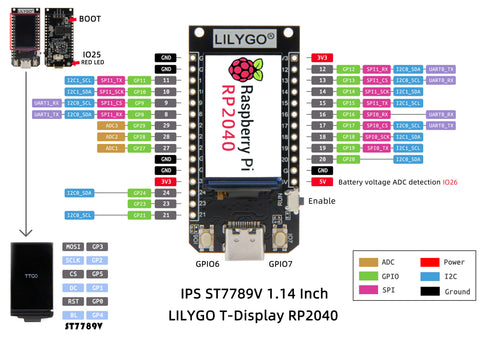 3. Appearance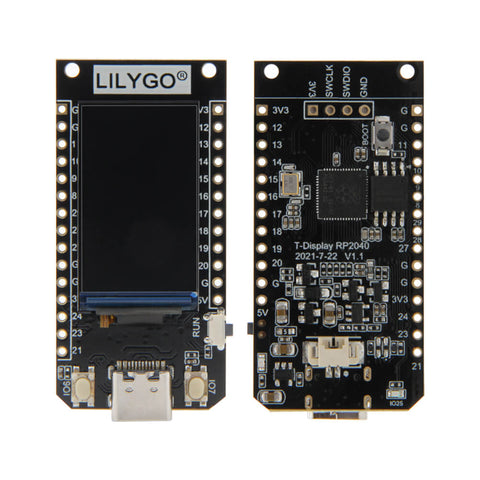 1 X T-Display RP2040

1 X Power Cable

2 X Pin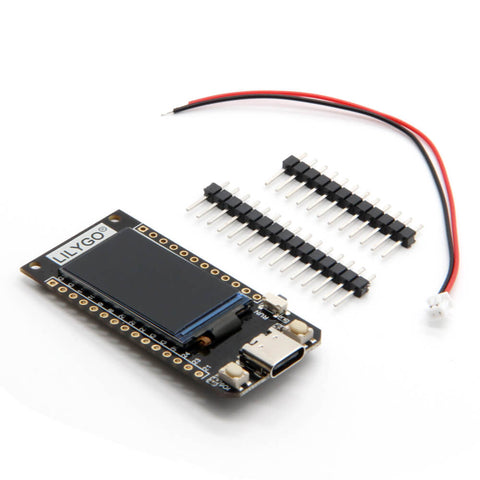 Share
View full details